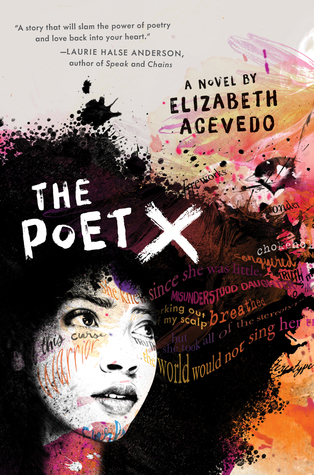 The Poet X by Elizabeth Acevedo
Young Adult Realistic Fiction, Poetry
→2019 Michael L. Printz Award Winner
→2019 Walter Dean Myers Award Winner
→2018 Boston Globe, Horn Book Award Winner
→2018 National Book Award for Young People's Literature Winner
Synopsis from Amazon:
Xiomara Batista feels unheard and unable to hide in her Harlem neighborhood. Ever since her body grew into curves, she has learned to let her fists and her fierceness do the talking.
But Xiomara has plenty she wants to say, and she pours all her frustration and passion onto the pages of a leather notebook, reciting the words to herself like prayers—especially after she catches feelings for a boy in her bio class named Aman, who her family can never know about.
With Mami's determination to force her daughter to obey the laws of the church, Xiomara understands that her thoughts are best kept to herself. So when she is invited to join her school's slam poetry club, she doesn't know how she could ever attend without her mami finding out. But she still can't stop thinking about performing her poems.
Because in the face of a world that may not want to hear her, Xiomara refuses to be silent.
---
Even as a librarian, I am very judgmental of the books selected for annual literary awards (Caldecott, Newberry, Printz, etc.) because they are all selected by librarians (grown-ups) who get to decide what's valuable or worthy of merit for audiences they serve but aren't actually a part of. 90% of the time, I understand why certain books are selected, but that doesn't mean I always agree with them.
The Poet X is one of those books I was never really worried about, even though I didn't read it. I knew it was worthy of merit because readers whose thoughts and opinions I trust said this book was amazing and spoke to them in so many valuable ways.
Going into this novel, I had no idea what is was about. I knew it was a book in verse and that it was written by a POC author, which is always something to get excited about.
Stereotypically, this is a novel in verse that is ultimately about the power of words and poetry–a message we can all get behind and agree with. Xiomara (which translates to "one who is ready for war"), a Dominican teen living in Harlem, has a lot of unspoken thoughts and feelings that are brought to life through poetry and spoken word. I am all for books that encourage young people to use their voices for good, to uplift their communities, call attention to issues and values that are important to them and express their opinions, emotions, hopes and dreams.
But a book in verse that is also about poetry, just seems too obvious and sort of predictable. We get it, poetry is important. Why should I read this book?
What makes this book so special is all the nuanced themes throughout, aside from one girl's discovery of slam poetry. This story is about self-love, first love, familial love, body positivism, gender roles and feminism.
This is a book about what it's like being a young woman who is punished and harassed for the body she's born with–beautiful and curvy–and not being able to love your own body and allow it to feel good things, because your old-school mother has taught you that all the unwanted attention and touching you receive from males of all ages is your own fault.
This is also a book about culture and religion, the challenge that comes with not sharing the same faith as your mother who would force you to go to confirmation classes each week and kneel down on rice grains to pray for forgiveness after making out with a boy.
While I'm satisfied that there are books in which teenagers explore the problematic sides of religion, I do wish there were more about characters who actually like theirs. I grew up Catholic and there were definitely times I resented it, mostly because CCD and Confirmation classes were time consuming. But overall, my faith was a really important part of who I was growing up and continues to be as an adult. I do appreciate, still, that over the course of the story, Xiomara questions the purpose of religious faith because I do feel that it can be hard to believe in a God when you experience so much adversity and difficulties with loving yourself on a daily basis, especially when it's your mother's sole reason for treating you the way she does.
Xiomara's story explores the emotional distress that comes with hating the [immigrant] parents who raised you, but not wanting to because they've done literally everything for you. Regardless of the sacrifices they may have made for their children, Xiomara's parents are extremely flawed; her father was a shameless womanizer and is now an emotionally absent parent; her mother is a strict Catholic who fears sexuality in any form where her daughter is concerned. Xiomara's genius fraternal twin brother Xavier, though she only calls him "Twin," can do no wrong in their parents' eyes and when he is hurt, their mother assumes it was Xiomara's doing.
There is so much that is frustrating about Xiomara's story but it's what makes this book so authentic and so powerful. Brava, Acevedo!
---
Verdict: Acevedo serves so much realness in her amazing debut which made me laugh and also moved me to tears. While any girl who has felt powerless, trapped or unheard within her body and heart will resonate with Xiomara, I think this book is an excellent tribute to all my curvaceous goddesses of color who are ready to take on the world and show everyone how truly powerful they are.
*Content/Trigger warnings: groping/unwanted touching, body-shaming, abusive parents, homophobia.
Twitter: @jasminesreading
Instagram: @singprettyreadbooks
Goodreads: jasminesreading
Linktr.ee: @singprettyreadbooks
Email: singprettyreadbooks@gmail.com
*2019 Reading Challenge Update: 20/175