Happiest of Wednesdays, readers.  I return with my next WWW Wednesday post as my "reading kick" is doing exactly that–motivating me to read more and more.
WWW Wednesday is a popular weekly meme that is currently being hosted by Taking On A World of Words.
The Three Ws are:
What are you currently reading?
What did you recently finish reading?
What do you think you'll read next?
---
The Winter of the Witch (Winternight #3) by Katherine Arden
Fantasy, Russian Folklore
I was so excited when this finally became available for me at work! Katherine Arden crafts a beautiful and raw Russian folkloric atmosphere with this trilogy, weaving mystical elements with the roughness of humanity. You can read my review of the previous installment, The Girl in the Tower, here.
I am about halfway through and am loving it…finally getting more of my beloved Morozko and oh, my heart!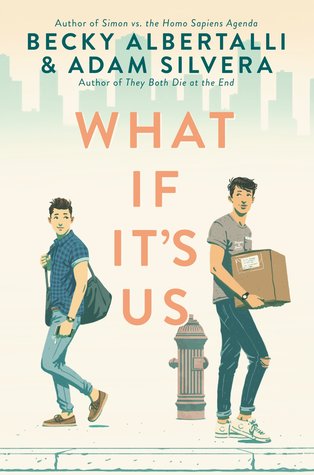 What If It's Us by Becky Albertalli & Adam Silvera
YA Contemporary, Realistic Fiction, LGBT
This has been on my TBR since I had first heard about it and I finally decided to just pick it up off the shelf when I saw it on display. Adam Silvera's writing is so beautiful and genuine and Becky Albertalli's Simon vs. the Homo Sapiens Agenda was one of my favorite reads from 2018.
I'm only about 70-80 pages in, but already, I have been laughing out loud! The sarcastic and quirky banter between all the various characters are just too real!
Playing for Keeps (Heartbreaker Bay #7) by Jill Shalvis
Contemporary Romance
A hot-shot suit and a laid-back tattoo artist co-rescue an abandoned dog? Need I say more?
If you're looking for an author akin to Susan Mallery, Nora Roberts, or Sarah Morgan, you must check out Jill Shalvis. Everything she writes is gold for me and she deserves all the space she can take up on my kindle.
Ares & Aphrodite: Love Wars, written by Jamie S. Rich and illustrated by Megan Levens
Graphic Novel, Romance
I was immediately drawn to the cover of this when I saw it on display at work. I mean look at it. A guy in a suit whose tie is being tugged on by a sassy looking lady with a giant red heart as the backdrop? Also, one of them owns a cat and the other a French bulldog?!
I've been on the hunt for more romance graphic novels, since I serendipitously picked up Jane, a very loosely inspired contemporary setting of Charlotte Bronte's Jane Eyre, late last year. Jane had an average rating of 3.19/5, but I ended up loving it (though, there were some parts to it that were a little out there for me) and rating it a 4/5. Ares & Aphrodite has a 3.44/5 rating so far on Goodreads and I'm enjoying it, as I imagined I would. I do feel like there are some blips in transitions, as if panels are missing. But I also don't read a ton of graphic novels on the regular, so I'm not always good at self-guiding my reading experience of them. Unless they are super obvious in illustration or text, I'm not the greatest at interpreting time jumps or a character's inner thoughts vs. what's actually occurring at the moment.
Shadowsong (Wintersong #2)by S. Jae-Jones
YA Fantasy, German Folklore, Music, Romance
*Trigger warnings: Bipolar disorder/anxiety
Okay, I couldn't not pick this up when I saw it was available and just waiting for me to consume it! I must know more and while I'm aware of the mixed reviews of it, I don't care. I need to know what happens next…My Goblin King, oh, mein herz!
*Much respect to S. Jae-Jones for actively including trigger warnings in the Foreward of her book as well as providing the Suicide Prevention Hotline (1-800-273-8255) multiple times.
→Three Little Words (Bridesmaids Behaving Badly #3) by Jenny Holiday
Contemporary Romance / My rating: 🌟🌟🌟🌟 4/5
*Thank you to Forever Romance for sending me a finished copy in exchange for an honest review.
This turned out to be my favorite in Holiday's Bridesmaids… series. I didn't totally love Gia (the protagonist), but I appreciated the opportunity to get to know someone who has a problem without it being officially "labeled." Instead of  being a strictly "anorexic" or "bulimic" character, she is a woman with an eating problem—a problem she understood but also didn't quite understand—and insecurities.
This is probably my favorite quote from Gia throughout the entire book: "I eat when he cooks for me, though." Is there anything more romantic than your partner comforting you by saying "whatever you want, I'll cook it for you" ?
Bennett was hot from the get-go. Southern charm, the skills of a professional chef, and a desire to atone for past sins all rolled into one.
Also, there's a little human in here also named after Princess Jasmine and I like to think I had something to do with that (I didn't—it was a nice surprise though.)
→Wintersong by S. Jae-Jones
YA Fantasy, German Folklore, Music, Romance / My rating: 🌟🌟🌟🌟🌟 5/5
There are not enough words to describe my love for this dark, romantic, and lush book! Read my gushing review HERE.
→Escaping from Houdini (Stalking Jack the Ripper #3) by Kerri Maniscalco
YA Historical Fiction, Mystery
→99 Percent Mine by Sally Thorne
Contemporary Romance
This one was just delivered to my Kindle yesterday!
→Book Boyfriend by Claire Kingsley
Contemporary Romance
I currently have the audiobook of this checked out on my hoopla account.
---
Be sure to let me know what you're currently reading in the comments below!
Twitter: @jasminesreading
Instagram: @singprettyreadbooks
Goodreads: jasminesreading
Linktr.ee: @singprettyreadbooks
Email: singprettyreadbooks@gmail.com
*2019 Reading Challenge Update: 16/175