Happy Tuesday, blogging friends. I hope you are all well. My illness has definitely cleared up and I feel perfectly fine! Unfortunately, my voice is still quite fatigued and feeling some rough after-effects. Speaking isn't so bad, but my singing still sounds dry and hoarse. I agreed to sing for a service today, partially because no one else was really available. I felt great going in and I took it easy on the gathering song which sounded and felt great!…but everything afterwards sort of went downhill and I really had to push myself to get through the rest of the mass. Every singer has those days…but I still can't believe the family (very generously) tipped me afterwards! I really didn't feel like I deserved it…I  hope they come to another mass when I sound much better.
Anyway, onto the actual blog post!
The Top Ten Tuesday meme, created by The Broke and the Bookish, is currently hosted at That Artsy Reader Girl. The latest list that I've seen floating around is "The Ten Most Recent Additions to my TBR."
---
99 Percent Mine by Sally Thorne
I didn't even know what this book was about when I added it to my TBR. All I heard was that Sally Thorne, author of one of my favorite contemporary romances, The Hating Game, was writing another book and I knew I needed it in my life. It was officially delivered to me kindle today and I'm eager to jump in.
The Other Brother (Binghamton #4) by Meghan Quinn
Meghan Quinn and her hilarious and sexy romances have become a fast favorite for me. I discovered her through my hoopla account which I dedicate mainly to checking out romance audiobooks and hers are always fun.
Hate Notes by Vi Keeland and Penelope Ward
Vi Keeland and Penelope Ward are both favorite romance authors of mine and I also love when they collaborate together. So, when this one came up as a recommended read on Amazon I quickly added it to my TBR. I love cranky and arrogant (and sexy) male protagonists.
Sawkill Girls by Claire Legrand
I'm still a little hesitant about this one as supernatural/creepy books aren't generally up my alley (despite my once intense addiction to the tv show, Supernatural). But my co-worker, A, really enjoyed it and we sometimes (though, not always) have similar tastes in books.
The Secret to Dating Your Best Friend's Sister by Meghan Quinn
Surprise, surprise! Another Meghan Quinn novel. I was really hoping that this would be a sequel to her other novel Love, Sincerely, Yours which she co-authored with Sara Ney because the end of the latter implies some sexual tension between the protagonist's sister and his best friend, but I don't believe it is. But that won't keep me from reading this one!
Two Can Keep A Secret by Karen M. McManus
I generally love a good YA murder mystery and One of Us is Lying was one of my favorite reads in 2017. I'm crossing my fingers that this one favors just as well with me.
The Vanishing Stair (Truly Devious #2) by Maureen Johnson
The cliffhanger ending of Truly Devious left me completely shook! I have been itching for this next installment. I found this to be a great read alike for E. Lockhart's The Disreputable History of Frankie Landau-Banks with regards to the mysterious and boarding school atmospheres.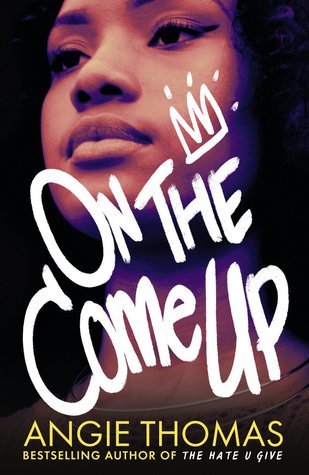 On the Come Up by Angie Thomas
Angie Thomas is officially one of the most important authors of this decade and I will never not read anything she writes.
Serious Moonlight by Jenn Bennett
How precious is the cover of this book? And I love that Bennett's covers match aesthetically (they also all use the same fonts for the titles). I was a little peeved with the premise of Alex, Approximately but I still thought it was sweet and Bennett is a great author for me to recommend for my teen readers looking for cleaner romances.
Book Boyfriend by Claire Kingsley
This is another romance novel on audio recommended to me by my hoopla app and I was immediately drawn in by its bookish premise. A book boyfriend possible come to life? I'm ready for it!
---
Let me know in the comments below if you have read any of these or also have them on your TBR. Also, is there a book you recently added that you're eager to start reading?
Twitter: @jasminesreading
Instagram: @singprettyreadbooks
Goodreads: jasminesreading
Linktr.ee: @singprettyreadbooks
Email: singprettyreadbooks@gmail.com
*2019 Reading Challenge Update: 16/175