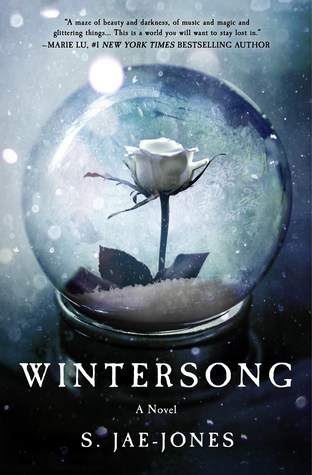 Wintersong by S. Jae-Jones
Young Adult Fantasy, Romance, Historical, German Folklore
Synopsis from Amazon: Deep in his terrifying realm underground, the cold and forbidding Goblin King casts a dark shadow over nineteen-year-old Liesl. Her grandmother had always warned her to follow the old laws, for every year on the longest night of winter the Goblin King will emerge into the waking world in search of his eternal bride. Sensible and plain, Liesl knows it's her duty to keep her beautiful sister safe from harm, but she wishes only to indulge in her wild, captivating music, composed and played in secret in the Goblin King's honor.
When her beautiful sister Käthe is stolen by the Goblin King, Liesl knows she must set aside her childish fantasies to journey to the Underground and save her. Drawn despite herself to the strange, beautiful world she finds–and the mysterious man who rules it–she finds herself facing an impossible choice. With time and the old laws working against her, Liesl must discover who she truly is before her fate is sealed.
---
Before Wintersong was published, I picked up an ARC of it from my workplace as we receive a box of ARCs from our vendor monthly. I was mostly drawn to the gorgeous cover, already knowing it would be a fantasy, and to its music-infused premise, despite not being overly enthusiastic over books which incorporate music.
As a classically trained vocalist who grew up in the Catholic church, my heart lies both with classical and sacred music. I've studied some opera and have a special place in my heart for Romanticism (music & art), Lieder (German art music), and Brahms–if Brahms composed it, I probably love it. Of all the languages I've sung in, German is my favorite.
I held onto the ARC for a while, but never had the heart or time to pick it up. Over time, many readers online expressed either their love it or hate it attitudes toward it, and I generally avoid those kinds of books for whatever reason. During one of my various past unhauls, I brought my ARC back to the library for someone else to pick up.
Recently, my supervisor read Wintersong and recommended it to me as we often have the same tastes in young adult fantasy novels. I explained to her that I had lost interest and was put off by its mixed reviews (which I didn't really dive into…I just knew people either loved it or didn't), so I was hesitant. But she assured me that its incorporation of musical language would appeal to me. I told her to check it out to me and I would give it a try, mostly because she reads everything I recommend to her and I have yet to read something she has recommended to me (LOL).
I basically went into this book blind. I didn't remember the exact premise of the story or its setting. While the back cover features snippets of reviews from other YA authors, on the front is a quote from Marie Lu, an author I love and whose work I generally adore.
She says of of Wintersong:
A maze of beauty and darkness, of music and magic and glittering things…This is a world you will want to stay lost in.
Without a doubt, I can attest to Lu's statement after reading this beauty of a novel. My attention (& my heart) were held since the beginning–the "Overture." Jae-Jones' infusion of musical language and classical music throughout was compelling and made this singer's heart so happy. This is language I haven't truly spoken since I was in music college where I was surrounded by professional musicians and aspiring composers and opera singers.
The story draws inspiration from English poet Christina Rosetti's "Goblin Market" and excerpts of the poem are appropriately included as prefaces to certain sections. When I think of Der Erlkönig (the Erl King or Elf King), I think of Schubert's chilling musical setting of Goethe's Erlkonig poem. The poem is told through four different voices–a narrator, a father, his son, and the Elf King and so the song is interpreted as such so the performer must manipulate his voice and presence to differentiate between the four characters. Below is a really cool animation of the piece, but be sure to turn on the captions for English translations.
The poem tells the story of a father and son riding a horse at night. The Elf King comes to take the son away, tempting him. And when the son tells his father about the Elf King, his father doesn't believe him, justifying his son's visions with different things in their environment (e.g. when the son asks if his dad sees the Elf King's daughters behind them, his dad tells him that he's just seeing the trees in the woods). By the end of their ride, the son has been assailed by the Elf King and dies in his father's arms.
Wintersong follows Liesl (Elisabeth), who is described as being plain, especially when compared to her beautiful sister, Käthe (Katharina). Though Liesl is not as strong a performer as her younger brother Josef (Sepperl), she is an exceptionally creative composer.
Liesl is a very strange and complex character which, in my opinion, is perfect for the German Romanticism aesthetic throughout. She loves her sister but has a very deep envy for Käthe who is physically attractive and engaged to Hans, a man Liesl has had feelings for. And though Käthe possesses no musical talent, something Liesl does have, Liesl does not see it as a setback for her sister or a strength for herself.
Liesl adores her brother Josef who is a virtuoso on the violin and receives all the adoration and attention for his musicianship from their father. Despite being ignored and criticized for her own musicality and skills as a composer, Liesl harbors no envy for her brother. Her choice to focus more of her love on her brother than for her sister is what ultimately drives the plot–Käthe is taken by the Elf King as his bride, lest Liesl plays his games and finds a way to save her.
I am an absolute sucker for the sexy and broody rulers of Underworlds and dark Kingdoms. Morozko from Arden's Winternight Trilogy and Rhysand from Maas' ACTOAR series are perfect examples of powerful, dark figures I've fallen in love with. Jae-Jones' Elfking is no exception. He is complicated, often putting on various masks to hide his true feelings. He is mischievous and oftentimes cruel, but he is also lonely, resigned and surprisingly faithful.
Through Wintersong, Jae-Jones thoughtfully explores identity and the power of one's name. Many of the characters have nicknames aside from their birth names. During the course of the story, Liesl comes to differentiate between "Liesl" and "Elisabeth." Her family calls her Liesl and she often refers to herself that way for various reasons, but the Elf King only calls her "Elisabeth." There is a dissection of who one is vs. what one is. Liesl is a musician, a composer, a woman (along the way, she earns more titles)–but she comes to realize that who she is, is more than what she is. The Elfking has no name and this fact is a very important key to unlocking his story.
It may have been intentional, but the story also gives off vibes of the Hades (another sexy Underworld ruler) & Persephone myth, as Liesl sacrifices herself to the Elfking to save her sister and the world above. Some other YA read-alikes, that I didn't personally enjoy, but are inspired by the same myth, include Hodge's Cruel Beauty and Ashton's Everneath trilogy.
---
Verdict: Wintersong, in just a few words, is dark, romantic, and sensual. Lush prose and a genuine integration of German folklore and classical music set it a part from others in its genre. I truly never wanted this story to end!
I would not recommend this to those who are not fans of Romanticism, which, in its most basic form, is centered on the Gothic and supernatural (the strange), the dramatic (emotional expression), and the individual (freedom). Liesl does not love herself enough and is very inside herself, which I know some readers will grow tired of. But her self-loathing, sudden bouts of fiery emotions, and self-discovery are so appropriate with the overall aesthetic of the story. The actual romance is also dark and unconventional, but again, appropriate with the Romantic art movement.
The same person who recommended that I picked this up mentioned some interesting things to me about the sequel, Shadowsong,  which she ended up not finishing. So, I'm a little concerned whether or not my potential dislike of the sequel will hinder my love for the first. But there's also just a part of me itching to pick it up anyway.
Twitter: @jasminesreading
Instagram: @singprettyreadbooks
Goodreads: jasminesreading
Linktr.ee: @singprettyreadbooks
Email: singprettyreadbooks@gmail.com
*2019 Reading Challenge Update: 15/175