Happy Sunday and happy November, everyone! I'm already getting ready for the winter holidays…too soon? Most likely, but I've never been one to care about that 🙂 . I'm here to share with you how I progressed in October with my reading achievements. Let's start with my October Reading Goals:
✔Goals marked with a checkmark have been achieved
*Goals marked with an asterisk are ongoing.
✘Goals marked with an X were not met.
✔Watch To All the Boys I've Loved Before on Netflix.
You can read about my thoughts on the book and Netflix film here.
✔*Work on a new note-taking system for reviews.
So, I organized and tried a colored post-it system…but it didn't really work out and it ended up feeling like more work. I'm thinking about possibly using post-its just to mark major plot points? Regardless, this did end up leading me to divide up pages in books with post-its to pace my reading.
✔*Read away from my phone more.
Though this can continue to be improved, I have been leaving my phone either face down or charging further away from me while I read.
✘Read 14 books.
As expected, I did not end up reading 14 books in October which was a particularly hectic month for me. I did end up reading 12, which is still more than I expected for myself!
✔Write at least one full book review.
I'm counting my review of To All The Boys I've Loved Before (Book & Netflix) for this one.
✔Read at least 3 children's/middle grade novels.
Happy to say I read 4! You will see them in my list of completed books for the month.
---
Onto the books!
As mentioned earlier, I only read 12 books in the month of October.
9 hard copies
3 Advanced Reader's Copies
*Books marked with an asterisk were included in a Rapid Reviews post:
Rapid Reviews #4
*Note: There may be books that I do not share for professional purposes because I reviewed them for a book review magazine that I write for.
---
*Front Desk by Kelly Yang, 🌟🌟🌟🌟🌟
Hate That Cat (Jack #2) by Sharon Creech, 🌟🌟🌟
*Ghost (Track #1) by Jason Reynolds, 🌟🌟🌟🌟🌟
Small Spaces by Katherine Arden, 🌟🌟🌟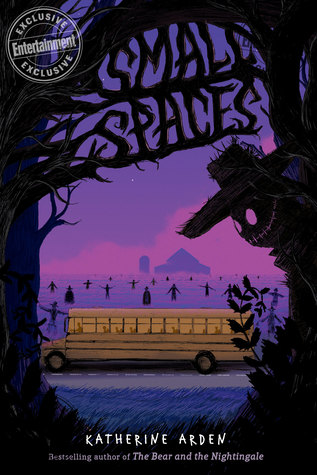 I am a huge fan of Katherine Arden's Winternight trilogy (feel free to read my review of book 2, The Girl in the Tower). Her writing is lush and shines in her Russian folkloric story. A co-worker offered me an ARC of her middle-grade debut novel, Small Spaces since I liked her other series so much and I thought it might be a good spooky read since Halloween has arrived.
I don't normally read creepy stories (definitely nothing that borders on horror), but I was eager to get into the spooky spirit. Though the story wasn't as spooky as I was hoping, the story's heroine, Ollie, is a relatable character who has a profound love for books (so much so, that she stops someone from throwing one into a lake) and overcomes her grief of a loved one by trusting in friendship and learning to move forward.
---
To All the Boys I've Loved Before (To All the Boys #1) by Jenny Han, 🌟🌟🌟
You can read my review of the Book to Netflix Film adaptation here. Overall, I think Lara Jean is extremely relatable as I felt a lot my anxieties I experienced as a teenager resonated in her. But Jenny Han's writing style and unlikable supporting cast made it difficult for me to rate it any higher than 3/5 stars.
---
*More of You by A.L. Jackson, 🌟
The Rosie Project (Don Tillman #1) by Graeme Simsion, 🌟🌟🌟🌟
The Rosie Project is a great read-alike for Helen Hoang's The Kiss Quotient because it also features a protagonist with Asperger's who is looking for love or at least the perfect mate. I've had its sequel, The Rosie Effect checked out as well, but as much as I enjoyed the first installment, I'm not currently in the mood to read the next. But I also fear that if I return it, I'll never get back to it. Decisions, decisions!
Thank you to a rep from Forever Romance Books for sending me free copies of the following books:
It Happened at Christmas (Christmas, Colorado #3) by Debbie Mason,
🌟🌟🌟🌟
Christmas Wishes & Mistletoe Kisses by Jenny Hale, 🌟🌟🌟
The Bastard's Bargain (O'Malleys #6) by Katee Robert, 🌟🌟🌟
---
And that's a wrap! Let me know what some of your favorite reads were in the month of October. Shared my choices for the Goodreads Choice Awards on my instagram story and thinking about sharing my choices in a blog post as well. Good idea?
Twitter: @jasminesreading
Instagram: @singprettyreadbooks
Goodreads: jasminesreading
Linktr.ee: @singprettyreadbooks
Email: singprettyreadbooks@gmail.com
*2018 Reading Challenge Update: 175/200