Happy Saturday, blogger friends. Throughout October, I've been so busy with work and school and reading obligations, that I wasn't confident that I'd be able to meet all my October Monthly Reading Goals. I've been constantly in the middle of at least 4 different books which has gotten quite confusing and overwhelming…but I've somehow managed (of course at the end of the month) to get myself situated and burst through more books than expected. We'll see if I can get to 14 books by Halloween (I've finished 12)!
But I've been meaning to throw in a Rapid Reviews post this month, so here it is!
---
More of You by A.L. Jackson
New Adult Contemporary Romance
My Rating: 🌟1/5
I received a free copy of this book in exchange for an honest review. I have been cutting back on accepting books for review, mainly because I have been so busy. Reluctantly, I decided to accept this one, hoping for a trashy romance to indulge in and relax with before going to bed.
Unfortunately this book ended up being much more work than expected as it took me forever to get through and into.
The style of prose ruined this book for me. The author's writing style includes a lot of brief sentences to create a sense of drama and angst that, over time, made the story unbearably melodramatic. I felt Jackson was trying too hard to make her story deep and meaningful. She was clearly going for something lyrical and poetic, throwing in various instances of single-worded phrases as if writing in verse.
It was insufferable.
Irritating.
Meaningless.
Other aspects I did not like about this book included the female protagonist's best friend (annoying), the female protagonist (doormat), and chapters about the past that are told in 3rd person POV while the present story is told in 1st person POV.
If you enjoy soap operas with some intense sex scenes in book form, this may be for you.
---
Front Desk by Kelly Yang
Middle Grade Realistic Fiction, Immigration
My Rating: 🌟🌟🌟🌟🌟 5/5
This is the kind of story where it all gets a little worse before anything gets better, so you have to celebrate every little victory and moment of positivism as they come.
This story focuses on a young Chinese girl whose family has immigrated to the States and have recently begun working at a motel and is based on the author's life. 10-year-old Mia "manages" the front desk while her parents clean rooms. I was born in the U.S., but both of my parents immigrated here–my mother went to a U.S. college and is a full American citizen, while my dad is considered a "legal immigrant."
Aside from the hardships immigrants face as a whole while living in a new country, this book did a great job of depicting the tensions that arise between people of the same race or ethnicity. Mia's family's supervisor is also Chinese and has a son, Jason, who is in Mia's class. The both of them are condescending on Mia and her parents, as well as extremely prejudiced against other people of other races.
My family has struggled in many ways and during some of these struggles, we've felt that some people in the Filipino community–many of whom used to be our close friends–have, in their way, turned their backs on us, stopped inviting us to parties, and acknowledging us at places such as church (where I am an active leader in the music & worship program).
Much in the way that some people perceive "levels of blackness," Asian communities have also have these levels of who is more "Asian." I have friends whose Filipino families do not associate with the Filipino community at large in any way and I also know many who are in various Filipino organizations in our regional area.
Yang honestly portrays other nuanced complexities of being an immigrant including Mia's mother being adamant that Mia pursue math over writing and challenges that come with protecting other immigrants of either the same race or different.
---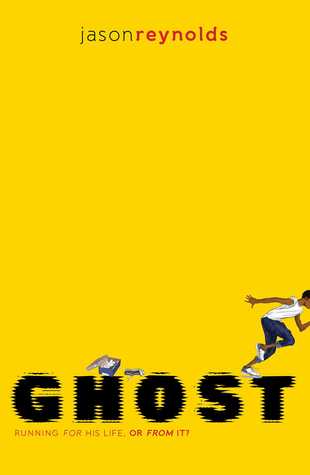 Ghost (Track #1) by Jason Reynolds
Middle grade realistic fiction, sports (running)
My rating: 🌟🌟🌟🌟🌟 5/5
In my desperate attempt to read more middle grade novels this month, I finally picked up Ghost as I have been meaning to for a while because many of my young patrons at work have raved to me about this series.
Jason Reynolds also co-authored All American Boys which was one of my favorite reads last year and one of my favorite audiobooks of all time.
In this series, Ghost (real name: Castle Crenshaw) loves to play basketball, but is recruited onto a track team because of his natural talent for running. Running also becomes a metaphor for his attempt at escaping his anger and difficult past with his father.
Jason Reynolds writing is so real and down to earth. A great read-alike for anything by Kwame Alexander, his characters are young people who tell it like it is and are extremely insightful. I'm looking forward to reading the rest of this series.
---
I should hopefully be back soon with a Bullet Journal Part 1 post and an October wrap-up. Let me know what you're currently reading and if you've been meeting your monthly goals for October.
Twitter: @jasminesreading
Instagram: @singprettyreadbooks
Goodreads: jasminesreading
Linktr.ee: @singprettyreadbooks
Email: singprettyreadbooks@gmail.com
*2018 Reading Challenge Update: 172/200