Happy Monday and happy October, my blogging friends. I hope you all have a great reading month ahead of you. October is going to be quite a busy month for me school, work, internship AND reading-wise. But I'm crossing my fingers that I'll be able to get a few blog posts in throughout the month because I sure do miss it.
I'm happy to say that I completed my September Reading Goal of reading at least 14 books.
6 hard copies
1 ARC
4 e-books
3 audiobooks
*Books marked with an asterisk were included in a Rapid Reviews post:
Rapid Reviews #3
*Note: There may be books that I do not share for professional purposes because I reviewed them for a book review magazine that I work for.
---
*Wishtree by Katherine Applegate, 🌟🌟🌟🌟🌟
The One and Only Ivan by Katherine Applegate, 🌟🌟🌟🌟🌟 (re-read)
Sparrow by Sarah Moon, 🌟🌟🌟🌟🌟
I was drawn to Sarah Moon's Sparrow both by its beautiful exterior and positive reviews earned. This story follows eighth-grader Sparrow who struggles with anxiety. After the death of the school librarian who encouraged Sparrow's love for reading, she finds herself (and is later found by someone else) on the rooftop in an apparent suicide attempt.
Sarah Moon's prose genuinely mimics the voice of a young person–both a little immature and exceptionally insightful, honest and lyrical. The truth of how Sparrow copes with her anxiety is truly unique and speaks to me in a way that I didn't think would. If you know me at all, books which focus on music don't usually appeal to me. But Sparrow's growing interest in music as an escape and mode of self-discovery was touching. A lot of great artists, both modern and past legends, are included in here.
I think this is a great read alike for Kwame Alexander's Solo.
---
*The Dream Thieves (The Raven Cycle #2) by Maggie Stiefvater, 🌟🌟🌟🌟
Through To You by Karen Barnholdt, 🌟🌟
This book is a perfect example for why I'm glad I haven't been binge-shopping on BookOutlet for a long time. I get so excited whenever I see all these seemingly sweet and adorable contemporary romance novels on the site, that I stock up my cart just to get free shipping.
I've owned this book for quite a long time and just picked it up last month, figuring it would be a cute and fast read.
I found Through To You to be an odd balance of "too serious" and "not serious enough." The male protagonist, Penn, refuses to see a doctor for his shoulder injury, fearing that a doctor will only disappoint him further by telling him he'll never be able to play college baseball. But I could hardly understand how he would get into college considering that he skips class every other day. The female protagonist, Harper, is another weak teen heroine who claims to be independent but easily gives into the charms of the bad boy. She is a dancer and has this irrational fear of getting a physical done–she's somehow managed to escape going to the nurse's office all throughout high-school, which makes absolutely no sense. Why she doesn't just get the damn physical done is never explained.
---
Driftwood Cottage (Chesapeake Shores #5) by Sherryl Woods, 🌟🌟🌟🌟
Moonlight Cove (Chesapeake Shores #6), 🌟🌟🌟
Beach Lane (Chesapeake Shores #7), 🌟🌟🌟
*Three Blind Dates (Dating by Numbers #1), 🌟🌟🌟🌟
Back in the Game (Dating by Numbers novella), 🌟🌟🌟
The Trouble with Christmas (Christmas Colorado #1) by Debbie Mason, 🌟🌟🌟🌟
Christmas in July (Christmas Colorado #2), 🌟🌟
Christmas on Mistletoe Lane by Annie Rains (Sent to me by Forever Romance), 🌟🌟🌟🌟
The Kiss Quotient by Helena Hoang, 🌟🌟🌟🌟(4.5)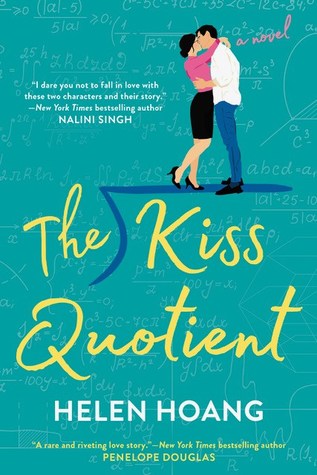 I had heard so many wonderful things about this story online and from my mentor at my internship and I was excited to see that we had the audiobook through our hoopla app at work.
The Kiss Quotient, like To All The Boys I've Loved Before and Crazy Rich Asians, reminds us that rom-coms don't have to feature white characters to be eligible. Yes my fellow Asians and people of color, you too, could be the star of your own romantic comedy!
Prior to reading this, I didn't know that it featured an autistic protagonist, so that was a delightful surprise! Also, it was a lot sexier than I thought it was going to be–you should know that I also did not know, prior to reading, that this story involved a male escort being hired, LOL. Hoang's depiction of Michael's quirky Vietnamese family was both sweet and hilarious.
---
I have just 40 books left to read until I reach my 2018 goal of 200 books! I plan on reading at least 14 books each month until 2019, to both meet and stay ahead of my goal. What about you? How close are you to achieving your 2018 reading goal?
Twitter: @jasminesreading
Instagram: @singprettyreadbooks
Goodreads: jasminesreading
Linktr.ee: @singprettyreadbooks
Email: singprettyreadbooks@gmail.com
*2018 Reading Challenge Update: 160/200