Happy Wednesday, blogger friends. I hope you've all been doing well. I can't believe summer vacation is ending soon! I still have a semester left of my Master's program and this semester I have to do my field experience in a school media center because I'm working toward earning my School Media Specialist certification.
I've been wanting to get a book review up for a while now, but I haven't really been inspired to write up full reviews for any of the books I've finished. I promise I've been reading, though! Today I figured I'd share some of my opinions on a few books I finished recently.
---
The Opposite of Here by Tara Altebrando
YA Mystery/Thriller

For her 17th birthday, Natalie's parents take her and three of her friends on a cruise. Just a few months prior to the beginning of this story, Natalie's boyfriend died in a car accident, so being on a cruise ship is one of the last places she wants to be right now. During their trip, she meets a mysterious and cute boy who gives her hope that she could move on. But she begins to think he's hiding something when he keeps disappearing on her and the captain suddenly calls for a head count to make sure nobody's missing.
I grabbed this purely because I wanted a fast-paced YA mystery that wouldn't take me long to finish. I'm pretty sure the one aspect I liked most about this one is that it was very short. Overall, this mystery was extremely tropey. You've got the girl with the dead boyfriend that she can't get over who, over time, you discover wasn't actually the greatest boyfriend in the world. One of Natalie's friends falls under what I call the "promiscuous girl " trope, so much so that she actually states she may be "open to cheating." I mean sure, she's in a not-so-great relationship, but if that's the case, cheating is not the answer! Break up with that boy!
There are two small-ish love triangles, one of which involves a boy (who is so not worth it) coming in between two girls who are best friends (so sick of these kinds of female friendships portrayed in YA). The plot twists are predictable, though I will admit a final truth mentioned in the last few pages did catch me by surprise–but don't think that fact redeemed this story completely.
---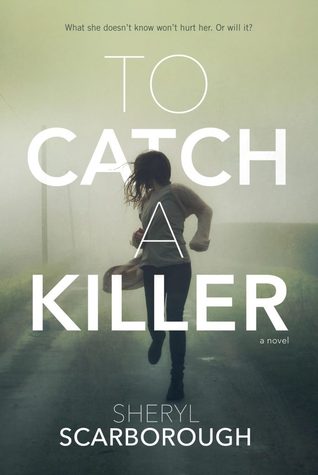 The Catch A Killer by Sherly Scarborough
YA Mystery/Thriller

Erin Blake is well-known for having stayed by her mother's corpse for three days when she was just two years old. Two big questions remain unanswered: who killed her mother and who is her father? Now in high-school, Erin is at the center of another murder investigation, and this time her favorite biology teacher is the victim. Inspired by her uncle who works for the FBI and her determination to also solve her mother's murder, she uses her passion for forensics to take care of business herself.
I was clearly itching for another YA mystery after not having been completely satisfied with The Opposite of Here. Coming at just a little over 300 pages and sporting a creepily aesthetic cover, this one piqued my interest immediately. This one turned out to be more DIY forensics science/teen sleuth than suspense/thriller, which I think some teens will like. I liked that Erin's character was very hands-on with her sleuthing–e.g. her "finger-printing" kit includes eyeshadow, a makeup brush and scotch tape. The actual forensic portions were so detailed while other aspects of the book seemed lazy including the culprit reveal, the cheesy ending, and the unnecessary teen romance.
Erin has a crush on the boy that everyone at school apparently "wants" and Scarborough did the obvious thing which is to make him somehow get twisted into the plot so that her protagonist can have someone to fawn over and fall in love with. Bleh (and this is coming from someone who loves romance stories).
The identity of the murderer (because it's probably pretty obvious that the murder of Erin's mother and teacher are linked) was extremely obvious, but I'm glad it turned out to be who it was because I hated that character!
My actual rating for this is more of a 2.75 out of 5 stars. I really liked Erin's Uncle Victor who is a sort of Sherlock Holmes-esque kind of guy–extremely clever and understands Erin to a T.
I am a little annoyed there is a sequel to this book because although there are a few unanswered questions from this installment, I could care less about them. But I would love to see more of Uncle Victor…and that's about it, honestly.
---
Jane by Aline Brosh McKenna, illustrated by Ramon Perez
Graphic Novel, Romance, Re-Telling

In this modern re-imagining of Bronte's Jane Eyre, Jane comes from a small fishing town in Massachusetts and moves to New York to pursue her dream of becoming an artist. She is hired by the intimidatingly handsome and extremely wealthy Rochester to work as a nanny to his daughter, Adele.
I'm not a classics person myself, but did read Jane Eyre because it is one of my Bookstagram bestie's absolute favorite books. Although it took me a very long time to get into–as is the case for any classic literature for me–I liked the story overall.
I don't believe this graphic novel will satisfy or impress die-hard Jane Eyre lovers. Its average rating on Goodreads is around a 3.2/5 stars and based on the reviews I skimmed, many were displeased particular with its instalove trope.
Every morning at work, prior to opening the library, we have a morning meeting with all staff just to discuss what programs are happening that day and any important updates. I saw this one the New Graphic Novels shelf and was totally drawn to the cover. I didn't look up any of the reviews before diving in.
I'm so glad I didn't because I ended up really enjoying this. While I see it for its faults, the overall theme of the book appealed to me. I like the idea of finding both yourself and love in a big city. One of my fantasy dreams is to work as the secretary to some very wealthy CEO and magically meet my husband in the city.
---
When We Found Home (audiobook) by Susan Mallery
Adult Fiction, Contemporary, Romance, Family

One would think Callie Smith would be ecstatic to discover that she has a wealthy family hoping for her to come home to them. But accepting a new family is difficult when you've been on your own and must deal with the consequences of a regret-filled past. Along with a loving grandfather, Callie also learns that she has a brother, who is accustomed to being rich, and a younger sister, who previously lived in a foster home.
I will never not read a book by Susan Mallery. She is one of my absolute favorites in the adult contemporary genre. Her stories always succeed in the romance department, but also excel in exploring other topics including family, identity and new beginnings. When We Found Home is another perfect, heart-warming example of what she does best.
I appreciated that family is secondary to romance in this particular novel. Readers get to explore the complex relationships between Callie, Malcolm and Kiera as they grow closer and learn to become a real family. The supporting characters, mainly Callie's and Malcolm's love interests, were not quite as likable in some aspects, proving to be selfish and extremely difficult at times as they learn to solve their own problems within themselves. Regardless, this was an enjoyable read and made an excellent standalone and I probably wouldn't mind a sequel.
---
Let me know what you are currently reading and some of your recent favorites or not-so-favorites.
Twitter: @jasminesreading
Instagram: @singprettyreadbooks
Goodreads: jasminesreading
Linktr.ee: @singprettyreadbooks
Email: singprettyreadbooks@gmail.com
*2018 Reading Challenge Update: 127/200