Happy Tuesday, my loves. I hope your summer has been relaxing. Have any of you had special plans or trips for this summer? I generally don't do anything crazy or special for the summer, so I've been really busy with work, church/funeral singing and book reviewing (not for my blog, unfortunately LOL).
If you don't already, I hope you'll follow me on instagram (@singprettyreadbooks) where I'm consistently active and update stories everyday. You can always see what I'm up to there. I also tend to review books informally in my stories because I'm usually too lazy to write up full review blog posts.
Anyway, the end of the month means a monthly recap of books I read but did not review here (which is pretty much everything except for Jen Wang's The Prince and the Dressmaker).
I read 17 books in the month of July which is pretty average for me.
7 hard copies
6 e-books
1 audiobook
3 advanced reader copies
*Note: There are a few books that I am not sharing for professional purposes because I reviewed them for a book review magazine that I work for.
---
The Summer I Turned Pretty by Jenny Han, 🌟🌟🌟🌟
It's Not Summer Without You (Pretty #2), 🌟🌟🌟🌟
We'll Always Have Summer (Pretty #3), 🌟🌟🌟🌟
The Boy Most Likely To (My life Next Door #2) by Huntley Fitzpatrick, 🌟🌟🌟
I've owned Jenny Han's Pretty Trilogy for well over a year and I was determined to get to it this summer. I binge-read the every book over two days because I found them to be completely un-put-downable. What's strange is that I'm not entirely sure if I actually loved the story.  All her life, Belly's been trying to be one of the guys among her brother and best friends, Jeremiah and Conrad (who are brothers). When she begins to develop feelings Conrad, she is forced into her position as the "kid sister." But then one miraculous summer she's suddenly attractive to everyone, including both Conrad and Jeremiah which leads the story to focus on this love triangle.
I was moved as I began the series because there's a significant part of my being that resonated with Belly. At 25 I'm still waiting for my "summer when I turn pretty" and I deeply felt that longing to be noticed and considered "attractive" by others just like Belly growing up. Love triangles aren't my most favorite trope, but I generally don't mind them if they're developed genuinely. I found the love triangle to be frustrating because I did not want Jeremiah or Conrad to be Belly's end game. Both were seriously flawed in my opinion and by the end of the series, I wasn't sure what I was supposed to have learned/what the moral of the story was. Still, I gave each installment 4 stars because of how addictive they were.
---
Rebel Heart (Rush Duet #2) by Penelope Ward & Vi Keeland, 🌟🌟🌟
Bad Bachelor by Stefanie London, 🌟🌟🌟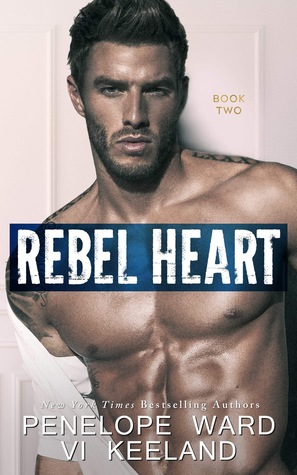 I love most books by Ward and Keeland, individually and collaboratively. But the Rush duet turned out to be more melodramatic when I was hoping for a little more fun. The potential second male protagonist did not have a significant presence in this sequel which sort of disappointed me, despite it possibly adding even more drama to the story. This duology is good for those who want something more soap-opera-esque–heavy on the drama.
---
Holiday Wishes (Heartbreaker Bay #4.5) by Jill Shalvis, 🌟🌟🌟
Time Out by Jill Shalvis, 🌟🌟🌟
Flashpoint by Jill Shalvis, 🌟🌟🌟
Second Chance Cowboy by A.J. Pine, 🌟🌟🌟
Cowboy Bold by Carolyn Brown, 🌟🌟🌟
The Inn at Eagle Point by Sherryl Woods, 🌟🌟🌟🌟
The Good Luck Charm by Helena Hunting, 🌟🌟🌟
Hunting's The Good Luck Charm turned out to be a little unique for me as a reader of romance stories. It is a reunion story which follows nurse-to-be Delilah and NHL player Ethan, who were high-school sweethearts and separated 8 years prior to the story. Following his father's advice to solely focus on his hockey career, Ethan reluctantly breaks up with Delilah over the phone, leaving her totally broken-hearted. When familial circumstances bring them back together, they make an attempt to rekindle their romance as they realize their feelings for one another never diminished during their time a part. What made this story unique to me is that it is not the typical "reunion romance" story I usually enjoy reading–the kind which involve one partner being completely in the wrong and the other partner giving them hell before taking them back.
Rather than struggling to get back together, Ethan and Delilah struggle to stay together the second time around. The relationship issues I had with this book were resolved by the end, so I don't want to spoil them for potential readers. But I did appreciate that the central theme of the book revolved around how important self-care and self-love are when in a committed relationship. What took me most by surprise in this book was how trashy it turned out to be. To make up for lost time, Ethan and Delilah were having sex non-stop. There is an instance when hiking in the woods, Delilah is attacked by ants and starts stripping off her clothes in a panic. While this is occurring, Ethan is standing by watching and getting ridiculously turned on by her nudity. Overall, while I didn't love the story, I came to appreciate it by the end. Thank you again to Forever Romance Books for sending me a complimentary copy!
---
I feel like I didn't read any books which I truly loved during the month of July which may be the reason why I'm nearing a book-slump at this moment. Was July a good reading month for you? What were your favorite reads? Also, what are you reading right now? Anything good?
Twitter: @jasminesreading
Instagram: @singprettyreadbooks
Goodreads: jasminesreading
Linktr.ee: @singprettyreadbooks
Email: singprettyreadbooks@gmail.com
*2018 Reading Challenge Update: 117/200