Happy Thursday, bloggers. I have been in a bit of a weird head space for the last week and a half and as much as I wanted to work on some blog posts, I didn't seem to have the motivation. As with any type of social media, I think if you have to force yourself to work at it or participate, it's not fun and so I'm trying to not allow my inconsistent scheduling to make me feel guilty. Love what you post and post what you love.
For today's Thoughtful Thursday post, I was stuck between two ideas and left it up to my followers to decide for me.
When my editors for the magazine I review books for surveyed me about my reading preferences with regards to what I enjoy reading, have knowledge of or can relate to (diversity), one of the things I mentioned is that I'm always looking for more stories which genuinely depict mental illness, particularly anxiety and depression which are relevant to me. I believe my exact words to them were, "I have a tolerate/hate relationship with 13RW…I just know there have to be better books on mental illness out there."
They sent me one story (title left out for privacy purposes) which focused on two characters living with depression. I was glad to read it and despite its near melodrama, I felt the authors honestly portrayed how a romantic relationship between two people struggling with their mental health can become extremely toxic.
The main issue I had with this novel is that it was extremely triggering for me. There were two significant instances during the course of the story when I had to put the book down. During each of those moments, many unwanted and negative feelings and memories came rushing back and so I had to take a break from continuing the story for the rest of the day.
When you read a book that is triggering to you, do you feel the need to stop reading it altogether or continue on at a later date? I was motivated to continue reading because obviously I had to (it was assigned to me) and also because I was eager to see how mental illness was handled overall. I want to be able to tell others whether or not I believe a particular novel, though possibly triggering for readers experiencing similar stresses or issues, offers valid or effective representation.
Obviously, I believe that books which make readers uncomfortable do not have to be read at all or can be left unfinished. When executed well, a book focusing on characters with mental illness gives voice to an underrepresented group and also offers opportunities for learning and empathy to other readers.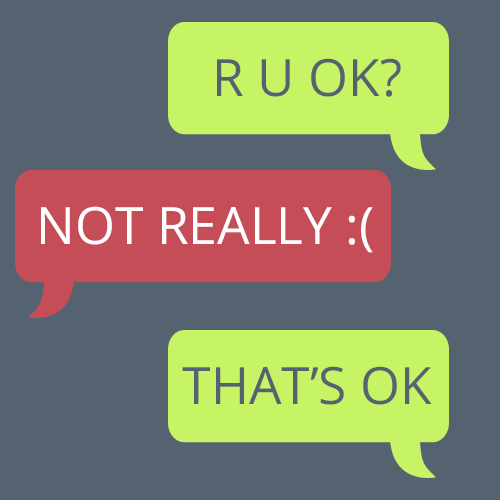 I also believe trigger warnings for books are absolutely and 100% acceptable in reviews. Readers will respond to triggers and mental illness representation differently, which is why a variety of unique and diverse opinions and reviews are so important.
But I want to know more about you and your thoughts. Have you ever been significantly triggered by a story? What are your thoughts on trigger warnings for books? In my YA literature class, some classmates argued for trigger warnings and more relevant sources in sensitive reading materials for those who may need them. Other classmates pointed out that every story is an experience, readers won't always be affected by certain topics the same way and not every story with "mental illness" is a "mental illness story." For example, The Fault in Our Stars by John Green is not just a "cancer" story.
Do you think stories with mental illness are firstly for those struggling with mental illness or for those who don't understand it enough?
If interested, check out one of my previous Thoughtful Thursday posts: Mental Health Representation in Fiction.
And I just wanted to end this post with an uplifting reminder from one of my favorite twitter accounts.
give yourself the peace you need.
give yourself the time you need.
give yourself the space you need.
give yourself the love you need.

keep giving.

— Joel (Jo-el) Leon. (@JoelakaMaG) July 15, 2018
Twitter: @jasminesreading
Instagram: @singprettyreadbooks
Goodreads: jasminesreading
Linktr.ee: @singprettyreadbooks
Email: singprettyreadbooks@gmail.com
*2018 Reading Challenge Update: 109/200