Happy Monday, book lovers. I'm back with another monthly recap of books that I read but did not post reviews for in the month of June. I met my half-yearly goal which was to read exactly 100 books before July 1st as my goal for 2018 is to read 200 books altogether. I'm not entirely sure how I managed to read well over 200 books last year…that seems so difficult now.
Anyway, I read 15 books in the month of June.
5 physical books
3 audiobooks
5 e-books
2 advanced readers copies
*Note: There are a few books that I am not sharing for professional purposes because I reviewed them for a book review magazine that I work for.
---
Crooked Kingdom (Six of Crows #2) by Leigh Bardugo, 🌟🌟🌟🌟🌟
Sky in the Deep by Adrienne Young, 🌟🌟🌟🌟🌟
Alex Approximately by Jenn Bennett, 🌟🌟🌟🌟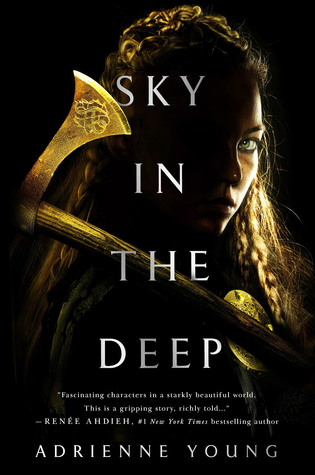 Sky in the Deep is definitely one of my favorite reads so far this year and hands-down one of the best fantasy debuts in 2018.
This [currently] stand-alone fantasy story is well-crafted, artfully written without being too intricate, and filled with family drama, intrigue, violence, and a tasteful romance that does not completely overpower.
Readers will feel the war raging within its protagonist, Eelyn, as she comes to challenge, understand and accept those things which she cannot control. The ultimate theme of this story is change–change of mind and heart, learning to sympathize and empathize with things and people one has disliked, opposed or even hated in the past.
---
Dirty Deeds (Irresistible #3) by Stella Rhys,🌟🌟🌟
Hothead (Irresistible #4), 🌟🌟🌟🌟
Ex Games by Stella Rhys, 🌟🌟🌟🌟
Stella Rhys is a master at trashy romances and I'm not sorry for it. Her stories do tend to border on the melodramatic which isn't great but also not totally unexpected. Her Irresistible series turned out to be a great find via my library's hoopla app and I was so excited to read its latest installment, Hothead, as I knew it would feature a baseball player–yes, please! But I was so upset to find that my library had not yet ordered it in e-book or audiobook form. So, of course, I purchased it for my kindle.
---
This is Our Song (The Shaughnessy Brothers #4) by Samantha Chase, 🌟🌟
A Sky Full of Stars (The Shaughnessy Brothers #5), 🌟🌟🌟🌟
Holiday Spice (The Shaughnessy Brothers #6), 🌟🌟🌟
One and Only (Bridesmaids Behaving Badly #1) by Jenny Holiday, 🌟🌟🌟
It Takes Two (Bridesmaids Behaving Badly #2), 🌟🌟🌟
Sandpiper Shore (Harmony Harbor #6) by Debbie Mason, 🌟🌟
Chasing Christmas Eve (Heartbreaker Bay #4) by Jill Shalvis, 🌟🌟🌟
I was eager to receive my free copy of It Takes Two by Jenny Holiday from Forever Romance Books mainly because it's an adult contemporary romance which actually features an Asian protagonist. Of course, her being Asian doesn't have any actual impact on the events of the story, but it's just nice to actually see a POC on the cover over these kinds of books.
Although it can be read as a stand-alone, it follows the events of One and Only as the Asian leading lady (Wendy) is actually the best friend and maid of honor to the leading lady of book 1 who is getting married in book 2 (did you understand any of that??). Despite being a little overdramatic, particularly compared to book 1, I enjoy the "in love with my best friend's brother" trope.
---
How many books did you read in the month of June? Any that stand out that you loved? Now that we're officially halfway through 2018, have you met the halfway mark for your reading goal? Let me know.
Twitter: @jasminesreading
Instagram: @singprettyreadbooks
Goodreads: jasminesreading
Email: singprettyreadbooks@gmail.com
*2018 Reading Challenge Update: 101/200