Happy Tuesday, book lovers. I hope your week has been off to a good start.
The dearest Phannie (Phannie the ginger bookworm) did this Reading Habits tag and I decided to join in too.
---
1) Bookmarks or random piece of paper?
Bookmarks! I have a ridiculous collection of bookmarks from various shops which I've purchased from and repped for all thanks to Bookstagram.
2) Stop reading randomly or after a chapter/certain amount of pages?
I usually stop reading when I've reached the end of a chapter, but sometimes I'll stop somewhere in the middle if there is a noticeable break in the text.
3) Do you have a certain place at home for reading?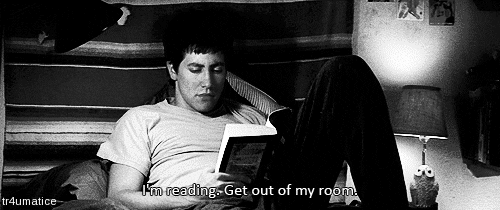 I much prefer reading in my room, lying on my bed. Sometimes I'll change it up by lying down on the couch in our basement, LOL. When it's nice out, I'll lie out on the deck and read too.
4) Do you eat or drink while reading?
I generally don't like eating while reading because I hate the thought of my greasy or oily hands touching the pages of a book. Sometimes I'll have a cup of coffee or hot chocolate nearby.
5) Multitasking: Music or TV while reading?
I already have a bit of difficulty concentrating when reading (check out my Thoughtful Thursday post on this), so I avoid multitasking (unless it's an audiobook). Listening to ASMR rooms or ambience mp3s and videos are actually very helpful for me while I'm reading.
6) One book at a time or several?
I am always in the middle of reading at least 2 books at a time. Sometimes I'll take a break from one to pick up another.
7) Reading at home or everywhere?
Again, I much prefer reading in my bed. But I always carry my kindle when I leave the house and I frequently use the hoopla app on my phone for audiobooks.
8) Reading out loud or silently?
Silently. But if a book is hilarious or something crazy happens, I'm usually laughing out loud or yelling profanities.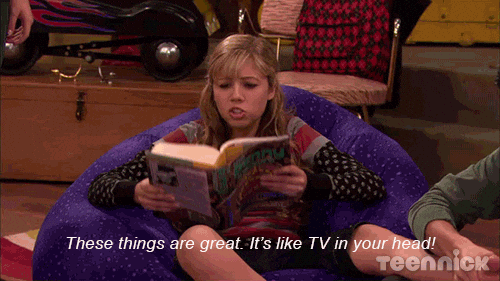 9) Do you read ahead or even skip pages?
Never.
10) Breaking the spine or keeping it like new?
I hate the thought of breaking spines, but sometimes they have to be compromised for a comfortable reading experience!
11) Do you write in your books?
I only write in the books I'm assigned to review for the review magazine I work for. I'm not privy to the notion of marking up books that I've purchased myself.
---
I'm tagging…
Cindy | readctbooks
Bentley | Book Bastion
Kalli | K The Ravenous Reader
Shanah | Bionic Book Worm
Kelly | Kelly's Rambles
You!
I want to know all about your reading habits! Please link back so I get notified and can read your answers 🙂
Twitter: @jasminesreading
Instagram: @singprettyreadbooks
Goodreads: jasminesreading
Email: singprettyreadbooks@gmail.com
*2018 Reading Challenge Update: 48/200