Happy Tuesday, beautiful bloggers. Speaking of beautiful bloggers, LaRonda (Flying Paperbacks) tagged me to do the How I choose my books tag and I am ever so grateful.
---
FIND A BOOK ON YOUR SHELVES OR E-READER WITH A BLUE COVER. WHAT MADE YOU WANT TO PICK UP THIS BOOK?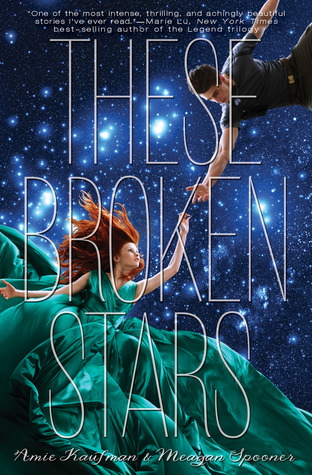 These Broken Stars was undoubtedly a cover love at first sight kind of book for me. I was not into Sci-Fi Romances at all until I picked this up and consumed it. A story that is as breathtakingly beautiful as its physical appearance!
THINK OF A BOOK YOU DIDN'T EXPECT TO ENJOY, BUT DID. WHY DID YOU READ IT IN THE FIRST PLACE?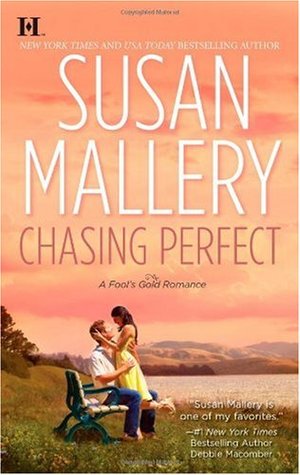 So, here's the thing: I've never been obsessed with romantic comedies. I would watch one if it happened to be on TV, but I was never the type to go out when the latest one hit the theaters with my closest girlfriends. So naturally, I avoided books of the same genre. My co-worker, JD, adores these types of books and told me to try this one out (Chasing Perfect). I bought it used online because our library copy was damaged…and the rest is history. When I was halfway through, I ordered the next 3 or 4 in the Fool's Gold series. and continued to buy whatever we didn't own at work. To this day, Susan Mallery is one of my favorite adult romance authors and she (and JD) is the reason for my ever-growing love for contemporary romance novels.
STAND IN FRONT OF YOUR BOOKSHELF WITH YOUR EYES CLOSED AND PICK A BOOK AT RANDOM. HOW DID YOU DISCOVER THIS BOOK?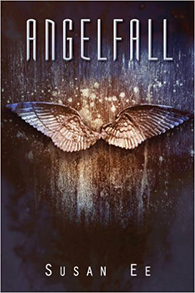 Angelfall was recommended to me by Goodreads and I'm honestly surprised more people haven't read it because I think the entire trilogy is excellent–totally underappreciated. I highly recommend this if you like your post-apocalyptic paranormal stories a little less romantic-driven, and with more violence and blood.
PICK A BOOK THAT SOMEONE PERSONALLY RECOMMENDED TO YOU. WHAT DID YOU THINK OF IT?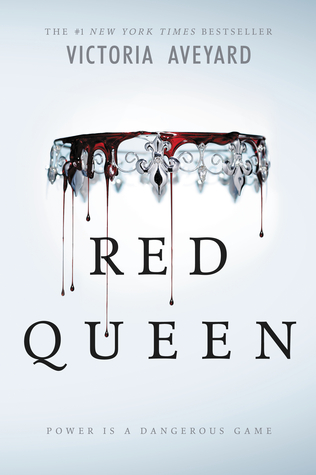 Another co-worker of mine, A, enjoys some of the same genres I do in YA and she was sure that I would love Red Queen. I'm happy to say she was completely right. I adored this book to pieces. I was a little disappointed in book 2 which dragged a bit and book 3 drove me up a wall. I need the last book, ASAP!
PICK A BOOK THAT YOU DISCOVERED THROUGH BOOKTUBE/BOOK BLOGS. 
I don't do booktube (that's a whole other story), but I did see It Ends With Us all over Bookstagram. I bought it and am so glad I did. This book had me on edge and I bawled my eyes out reading Hoover's inspiration behind this story (read my review here). Sadly, this has proven to be the only book by her that I enjoy. I read Confess and was totally disappointed. I've also been put off by some negative reviews concerning problematic content in one of her most recent works and so I am wary of reading more by her.
FIND A BOOK ON YOUR BOOKSHELVES OR E-READER WTH A ONE WORD TITLE. WHAT DREW YOU TO THIS BOOK? 
I'm all for starcrossed lovers and this one is infused with Greek myth. I own the whole trilogy, but I sadly found these books to be so slow in their development and therefore confusing and boring.
WHAT BOOK DID YOU DISCOVER THROUGH A FILM/TV ADAPTION?
I may have heard of these books back in high-school, but didn't think twice about them because I was hardcore obsessed with Twilight. When Freeform started showing commercials for Shadowhunters, I was intrigued and decided to read the books to prepare for the show. I loved City of Bones so much that I managed to binge-read all of The Mortal Instruments and The Infernal Devices before episode 1 of Shadowhunters aired.
THINK OF YOUR ALL TIME FAVOURITE BOOK(S). WHEN DID YOU READ THEM AND WHY DID YOU PICK THEM UP IN THE FIRST PLACE? 
Diana Peterfreund's For Darkness Shows the Stars is never talked about and it saddens me because this (and its successor, Across A Star-Swept Sea) is so well-written. The story in this installment is achingly beautiful and inspired by Jane Austen's Persuasion.
---
I am tagging:
Have a lovely day, everyone! Be sure to do this tag if you're interested and be sure to link back to me, so I can read your answers!
Twitter: @jasminesreading
Instagram: @singprettyreadbooks
Goodreads: jasminesreading
Email: singprettyreadbooks@gmail.com
*2018 Reading Challenge Update: 43/200